Acting as a bridge between an ISP or customer network and the rest of the global Internet, IP transit enables traffic to flow and reach a desired destination by crossing—"transiting"—one or more transit provider networks, facilitating critical connectivity, communication, and data exchange between customers, partners, and service providers.

IP transit plays an influential role in global Internet connectivity as the total international bandwidth reached 997 Tbps in 2022—almost doubling since 2020—with average and peak international Internet traffic increasing at a compound annual rate of 30% between 2018 and 2022. (1)

This post will introduce IP Transit and its benefits.


Why IP Transit?
Without IP transit, there would be several limitations for networks:
Limited or no ability to connect to the Internet.
Isolation of the networks would inhibit the flow of data.
On-demand capacity management would be burdensome, if nonexistent.
Communications and data exchange would be susceptible to outages and failures.
With IP transit in the picture, organizations can leverage the implementation and management of the transit provider network delivered by specialized transit providers so they can, instead, focus on their core operations to drive innovation, create value, and enable growth.
Comparing IP Transit and Peering
Peering, which has its own role to play in the efficient operation of the Internet—especially when regional connectivity is an issue. It is essentially a reciprocal relationship enabled by two or more parties that allow networks to exchange traffic in one of two forms:

Public Peering: Offers the exchange of traffic where one network can access multiple networks through a single Internet Exchange Point (IXP).

Private Peering: Provides the exchange of private traffic through a direct connection between two networks, typically private facilities.

While IP transit and peering may appear similar, there are several differences that must be considered when making the choice for one over the other. The following are two items to recognize that could have a direct impact on business operations:

Routing Responsibility: IP transit providers guarantee traffic delivery to any destination on the Internet. Whereas, in peering, each network only exchanges traffic between its authorized counterparts, requiring a separate Internet transit provider or peering partner to reach networks outside of the agreement.

Infrastructure Management: IP transit providers typically deliver the traffic exchange infrastructure and service, bypassing the need for the users of the service to invest in network setup and maintenance. On the other hand, peering requires the connected parties to invest in considerable infrastructure deployment and management to accommodate the sizable volume of traffic often exchanged between peers.

In some instances, a combination of IP transit and peering may make sense. When working with a network provider, be sure to check to see if they offer support for this hybrid model.

How IP transit works
With IP transit, a customer—often an ISP or large business—connects their network to the Internet transit provider's network, usually at a data center, allowing their Internet traffic to be routed to any location on the global Internet via the transit provider's expansive network infrastructure.
For Evocative IP transit environments, Internet access from within the
data center
includes a single physical connection to the customer environment. Internet access to the customer premises will always be a single connection. Internet access to a customer's premises will be addressed as on-net (a location where such service is already available) or off-net (where such a service is new).
Evocative delivers enterprise-class IP Transit
Evocative's enterprise-class IP Transit solutions give you access to a blend of transit and peering connections across several Tier-1 upstream transit providers and peering partners unique from other network service providers to ensure your IP packets can reach any destination and that your infrastructure can be reached from anywhere.

Fault Tolerant: Evocative has a global, resilient, multi-vendor, carrier-agnostic network infrastructure connecting to several Tier 1 Internet backbones, which provides a "blended" Internet connection—a connection that is not reliant on a single provider to reach the Internet.

Fast and Scalable: Evocative's high-speed Internet service provides your circuit with a committed information rate (CIR) from 50 Mbps all the way up to 100 Gbps, scaling up, scaling down, or even temporarily bursting as you need.

Flexible Delivery: Many options are available to ensure that your circuit will be delivered in a customized way to suit your business needs. This includes leasing or bringing your own registered block of IP addresses to dynamic or static routing.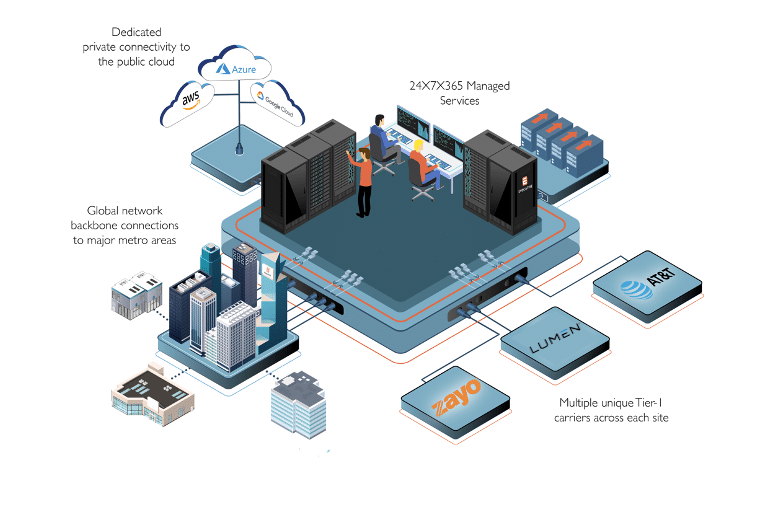 The Evocative Global Network connects all Evocative data centers and points of presence to offer a full suite of colocation, network, and infrastructure services with an approach that ensures:

Simplified connectivity: Get access to Evocative's blend of transit and peering.
Access to Tier-1 carriers: With 140+ carriers and multiple Tier-1 providers, plus public and private peering, you can reach your end-users anywhere.
Flexible deployments: Scalable capacity to match your needs as you grow.
Reduced costs: Leverage Evocative for lower monthly Internet pricing.
To learn more about Evocative's IP transit solution, visit
https://evocative.com/services/network-solutions/direct-Internet-access/
.
If you have questions about how Evocative can provide you with a fast, fault-tolerant Internet connection in a cost-effective package, we invite you to
register for a whiteboard session
.
Citations:
1. TeleGeography,
The State of the Network: 2023 Edition
, May 2023